About M-Sci
Faculty Highlights (M-Sci)
Contact information
Management Program
Accountancy Program
Communication Arts Program in Innovative Communication Arts and Entrepreneurs
Business Administration (Marketing)
Business Administration (Customer Service)
Business Administration (Business Computer)
Business Administration Program in International Business China-ASEAN Business
Business Administration (International Business)
Business Administration (Creative Business and Digital Technology)
Business Administration (Business Administration)
Business Administration (Medical Secretary)
Faculty of Management Science was established in 1985 when it was "Teacher College" and was known as "Faculty of Management Science" throughout the development of the university from Suan Dusit Teachers College to Suan Dusit Rajabhat University in 1995 until now it is Suan Dusit University.
Management education of the Faculty of Management Sciences is to expand the potential of learning management to be diverse in other disciplines. In addition to the teaching profession, the curriculum has been continuously developed and improved, and focus on the integration of management science to cover the needs of learners, and be able to support the labor market.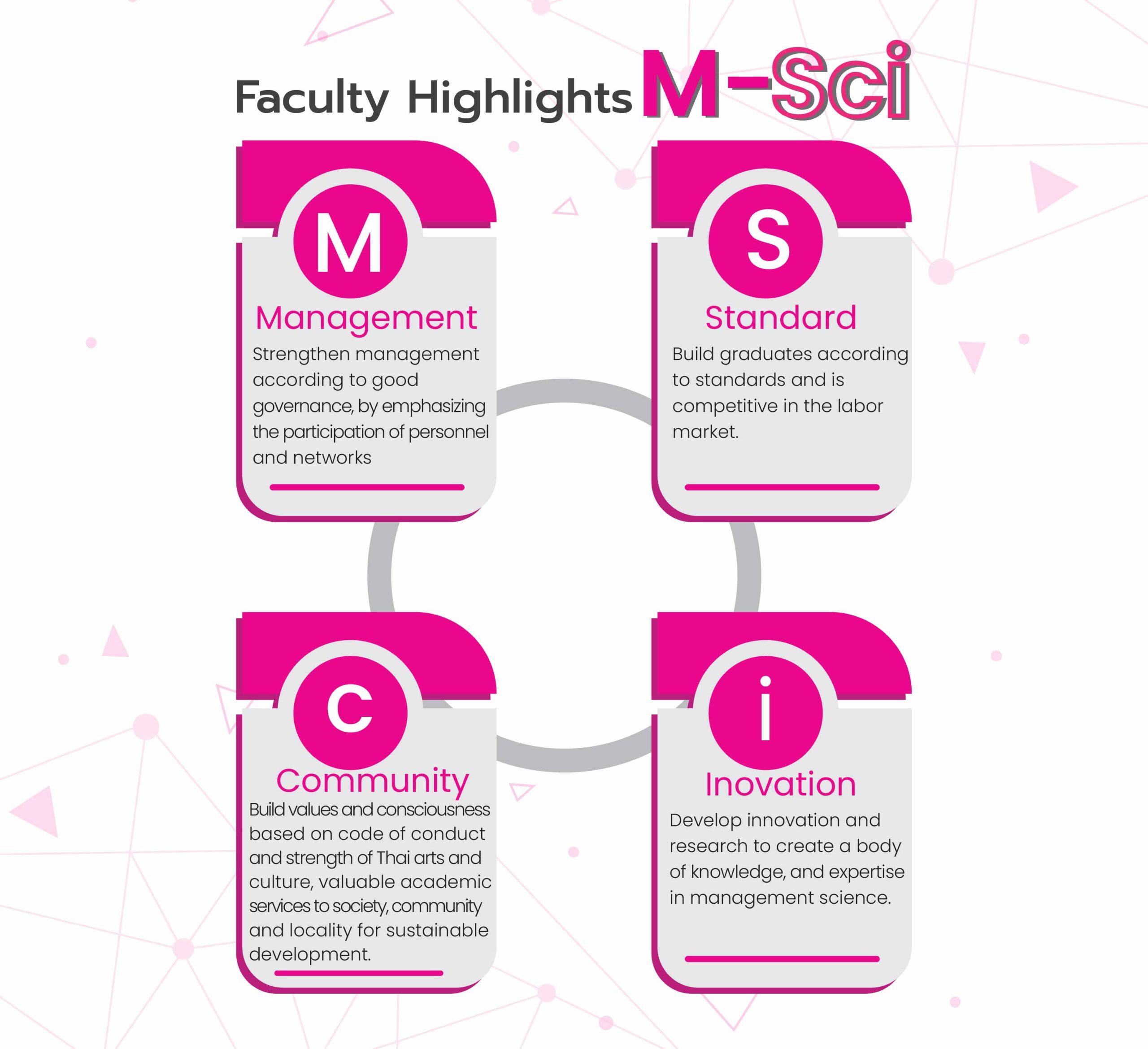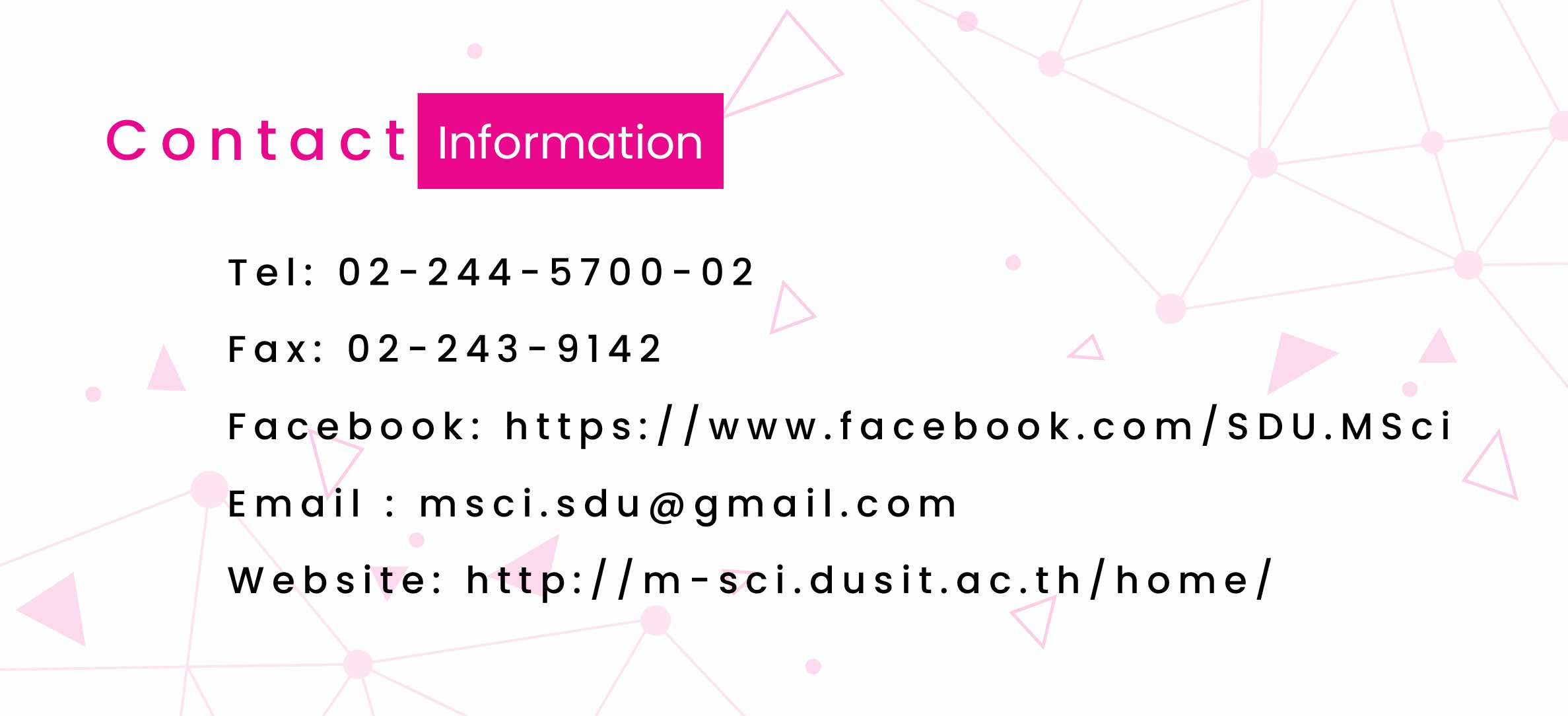 Bachelor of Management Program
To produce graduates who can manage business, Halal food, digital office with morality, ethics, service-minded, capable of information and communication technology, good personality, adaptable under changing conditions.
The course supports the expansion of the Halal food business and the development of digital technology. It is divided into 2 subject groups: Halal food business management and digital office management.
Opportunity for Professional Advancement
Manager
Planner
Coordinator, organizing personnel system, office system, administrative system, project and business plan management, corporate image management.
Bachelor of Accountancy Program
To produce professional accountants who have all the qualifications, namely being an expert in the accounting profession, having skills in communicating with others, having an effective data reporting system, and effectiveness honesty, determination and willingness to work, able to give business advice, and can adjust themselves to the changes in the digital era perfectly by the development process according to the International Education Standard (IES) under the curriculum philosophy.
"Having human relations, keeping up with technology, having good language, having good ethics and creating professional practitioners."
Opportunity for Professional Advancement
Accountant
Certified public accountant
Tax auditor
Accounting system analyst and designer
Executive accountant
Bachelor of Communication Arts Program in Innovative Communication Arts and Entrepreneurs
Emphasis on entrepreneurship, possessing analytical, creative thinking skills, Integrating knowledge in a multidisciplinary way, the ability to communicate in Thai, English and Chinese, the application of technology, media convergence, multitasking, professionally with pleasure, having aesthetics in art leading to innovations that are linked to social, economic, cultural and environmental conditions based on being Thai and presenting them to the international.
Opportunity for Professional Advancement
Innovative media business entrepreneur
Health business entrepreneur
Media and content creation
Public relations, Brand management, and Event organizer
Job in the entertainment industry
Bachelor of Business Administration (Marketing)
"To produce graduates who can apply knowledge in marketing science, technology and communication. Having human relations, adhere to the principles of morality, ethics and social responsibility"
Learning with experience, opportunity to express creativity and develop skills from experience inside and outside the classroom, build confidence and believe to lead knowledge can be applied in the future
"Enjoy learning, be proud of your rewards, and open your way to the future."
Opportunity for Professional Advancement
Market researcher or Market analyst
Marketing strategic planner
Online marketer / Event marketer
Public relations and Marketing communicator
Content marketing communicator
Entrepreneur
Self-employed in marketing
Bachelor of Business Administration (Customer Service)
Growth Mindset
Remarkable Personality
Organizational Integrity
Work with refinement
Focus on analyzing problems or opportunities to improve customer service processes in a variety of business contexts and situations to deliver customer service that meets the needs of customers which has changed dynamically by focusing on the goals and sustainable development of the organization.
Opportunity for Professional Advancement
Customized service centric customer
Career in information service and helping customers in all forms (Face-to-face / Contact center / Non-voice service) to meet customer service in the "Next Normal" era.
Bachelor of Business Administration (Business Computer)
To produce graduates with knowledge, skills, competencies, expertise and individual characteristics, able to apply knowledge in business information systems in the digital economy society, to pursue a career in the other company or their own business, and also have the knowledge of business administration, computer systems, information technology, communications, and transportation to manage business in a changing society belong to digitally intelligent people.
Opportunity for Professional Advancement
Business executives in the digital economy society
Business Information support officials
Digital business entrepreneur / Online business entrepreneur
Bachelor of Business Administration Program in International Business China-ASEAN Business
To produce graduates with knowledge and competence in international business,
focus on business between China and ASEAN countries, able to use Chinese and English to do business under the digital business system, able to think critically and creatively, able to apply digital technology for international business, be desirable graduates from the labor market and have an entrepreneurial ethic.
Opportunity for Professional Advancement
Private sector officials who operate international business, multinational company, Import – export company, Shipping company, Sea and air freight company, China – ASEAN business company
Managers or executives in multinational company, Company dealing with China – ASEAN
Entrepreneurs in trade between China – ASEAN
Entrepreneurs importing and exporting products to the Chinese – ASEAN markets
Cross-border e-commerce entrepreneur
Bachelor of Business Administration (International Business)
To produce graduates who have the knowledge and ability to think and plan
international business in a timely manner according to the changing world situation. Have technology skills, good personality, morality, ethics and responsibility to society and the environment.
Opportunity for Professional Advancement
Personnel of government sector entities such as the Department of International Trade Negotiations, Department of International Trade, Ministry of Commerce, etc.
Personnel of private sector entities such as international business companies, international business consulting firms, etc.
Import and export entrepreneur
International business entrepreneur
Bachelor of Business Administration (Creative Business and Digital Technology)
To produce graduates with service mind, create valuable works develop, being
digital citizens who can develop businesses in society and the digital economy from creativity and strengthen characteristics of the modern entrepreneurs who strive for quality success.
Opportunity for Professional Advancement:
Entrepreneur in society and digital economy / Online business owner
Officials in business information project
Analyst and Business System Designer
Program designer / Program developer / Programmer
Digital media designer / Website designer / Multimedia designer
Bachelor of Business Administration (Business Administration)
The curriculum corresponds to the changes economic and policy directions of the country. In the science of business administration which related to marketing, finance, investment, logistics services, human resource management. and being an entrepreneur in order to obtain personnel who can use innovation and technology modern digital work efficiency, also have English communication skills, creativity, able to think critically, have human relations, able to work with others to be ready with morality in business, and be a professional in the job.
Opportunity for Professional Advancement:
Marketer, Content creator, Creative media and marketing activities manager
Business entrepreneurs, Business development planning analyst, Product designer and
developer
Financial Manager, Financial analysis, Financial innovation developer
Logistic service operator, Importer-export agent
Data analysts, and develop human resource management system
Bachelor of Business Administration (Medical Secretary)
To produce graduates who are an ethical medical secretary with knowledge and problem-solving skills, have human relations, able to integrate knowledge of secretarial, administrative, and medical knowledge management together, and has a distinctive personality It covers at least 5 aspects of learning outcomes: morality and ethics, knowledge, and intellectual skills, interpersonal skills and responsibility, and numerical analysis and communication skills and using information technology, which will encourage graduates to have careers and generate income for their livelihood.
Opportunity for Professional Advancement:
Executive secretary and medical organization
public health officials and health business